This page tries to provide a lore and story spoiler free summary of all notable changes in game mechanics, that Fallout: DUST applies to Fallout: New Vegas.
NPC ticks on compass disabled
Fast-travel disabled
Cell respawn time lowered to 24. (Leaving an area of the game for more than 24 game-time hours will respawn all NPCs, creatures, container contents and other objects marked to do so).
Karma replaced by Sanity
See Fallout: DUST Sanity for more.
Portable Workbench
New recipes
Modified recipes (e.g. Weapon Repair Kit)
See Fallout: DUST Crafting and Crafting Kit for more.
Perk every level, most perks changed
Slowed XP gain (no quests), doubled XP req'd per level
Most Traits changed
See Fallout: DUST Level, Perks and Traits for more.
Carry weight decrease (20 + 5 * STR)
HP lowered (95 + (5 * END) + (5 * level))
Food and Drink scarce. Many changes: irradiation increased, Food gives HP, booze can hydrate, ...
Almost no harvestable crops
Hardcore needs tickers up: FOD +1/6s, H20 +1/5s, SLP +1/10s (1 hour nap = SLP -150)
Timescale change to 15
See Fallout: DUST Hardcore Mode, SPECIAL, Ingestibles and Ingestibles Category for more.
Player/NPC Torso damage is multiplied by 5, legs are multiplied by 2,5, arms are multiplied by 3x, head is multiplied by 10x (Verified on GECK)
Damage to Ghouls is multiplied by 0.01, with damage to their heads being multiplied by 30
Tunneler head damage is multiplied by 4, torso is multiplied by 2
Leg damage from falling tripled
Almost all quest triggers in the game were removed with exception of the Escape The Mojave quest
Remaining quests can be considered to be an oversight, and will have no influence on the new main quest
Weapon wear rate increase (0.2 to 0.5)
Spread is a function of condition now, Skill has a much bigger influence on spread
Almost all weapons from Fallout: New Vegas available (some renamed)
Some have changed spread, health, weight, damage and STR
Skill requirements adjusted
New weapons added, some craftable
Lootable weapon modifications
See Fallout: DUST Weapons of DUST and the Weapon Category for more.
Scarce, junk rounds predominant (generally +50% wear, -25% damage). Hint: Always loot guns from opponents for the ammo in the leftover magazine.
Some new craftable ammo
See Fallout: DUST Tips and Tricks and Crafting for more.
Damage to Armor % increase (35% to 70%)
Almost all armor from Fallout: New Vegas available (some renamed)
Changes to health, weight, DT and effects of armor
New armor added
No Power Armor training available
See Apparel of DUST and the Apparel Category for more.
DUST decimates the number of vendors, and those left are non-essential, do not respawn and do not regenerate health.
Almost all friendly NPCs were removed, turned hostile or changed beyond recognition
See People known to reside in the Mojave wasteland, 2281-2301.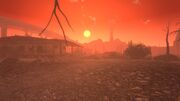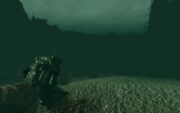 Climate and weather have been changed.
Climate of the Wastelands was changed to the red/orange Divide climate
Zion is now largely covered in greenish fog
Nights can be pitch black
Community content is available under
CC-BY-SA
unless otherwise noted.